What is Fruugo?
Fruugo is a U.K. based ecommerce company. It has more than 25 million active users. The fruugo marketplace comprises of thousands of sellers, catering to millions of customers across the globe. Fruugo e-commerce marketplace offers products related to categories like Sports and Fitness, Beauty and Health, Clothings, Home Improvements and Furniture, Toys and Video Games.
Fruugo marketplace operates in -
EU(Can sell domestically & cross border): Austria, Belgium, Denmark, Finland, France, Germany, Ireland, Italy, Luxembourg, Netherlands, Poland, Portugal, Spain, Sweden, and United Kingdom.
Europe (non-EU)(Can sell cross border only with native feed): Norway, Switzerland, and Russia.
Rest of the World(Can sell cross border only with native feed): Australia, Canada, New Zealand, South Africa & USA.
The Buyer Personas found on Fruugo e-commerce marketplace are Womens(21–40), Mens(18–55), House Wifes(25–40), Kids(under 15), Gamers(Under 25).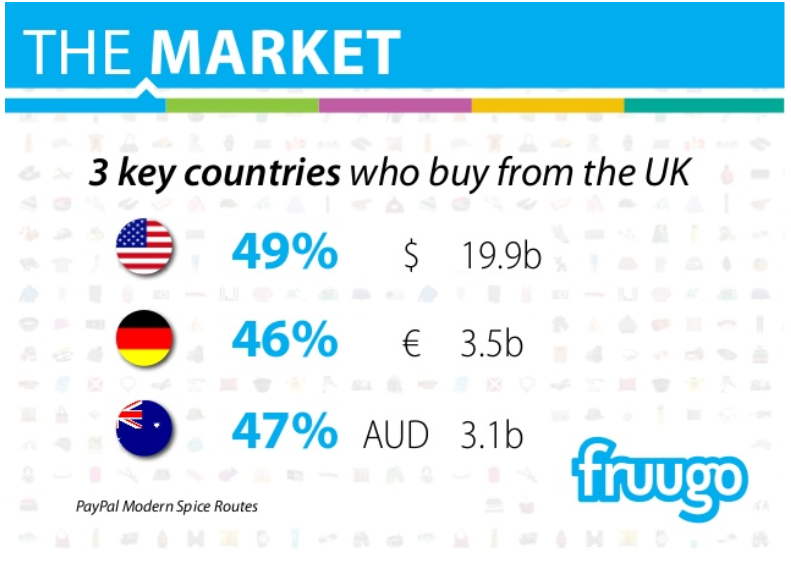 Why Choose Fruugo Marketplace?
Fruugo is a global marketplace where you can shop from many retailers across the world with one single checkout. Relatively new e-commerce marketplace compared to others, Fruugo marketplace is overseeing 200% growth year over year. Also, there are less number of online sellers on this platform making it feasible for online sellers to maximize their profits.Fruugo takes away the hassle of calculating exchange rates, shipping costs and taxes, offering a safe, simple and reliable means of shopping from trusted retailers across the globe
Key Points:
1. Product Translation:
Translates the products in 11 different languages and makes it available in 11 major currencies to buy.
2. No sale, No fee:
If item is not sold, fruugo doesn't take any fee also, there is no monthly or hidden fee also.
3. Grow audiences:
Sell your products to customers spread across 32 countries of the globe.
4. Fraud protection:
Secure full protection against fraud.
5. Network of partners:
Online sellers can access the Fruugo's ever expanding network of affiliated and partnered sites.
6. Online merchants
Online merchants can get the insights on foreign market demands.
Requirements for Selling on Fruugo
To sign up as a seller for Fruugo begins with the simple expression of interest registration form which adds your account to the waiting list for a member of the Fruugo Team to contact you to discuss the various factors required for Fruugo.
The requirements for signing up on Fruugo:
Can you ship Internationally?
All the information that you had entered while Configuration Step-2 is saved here. If in any case you want to change the Fruugo SELLER Log-In Details you can edit them from here and Save it.
Do you work with one of our Platform Partners?
We have pre-built integrations with a number of a market leading platforms which will allow for a seamless integration process.
Are you able to supply us with an automated product feed?
If you do not use one of our Platform Partners you will be required to supply us with an automated product feed in the Fruugo specification as a mandatory requirement to maintain your product information - stock, price etc
Why New Sellers Choose Fruugo?
1. Taking off in focused, little markets first:
Fruugo as of now works in Finland, Sweden and the Netherlands. Notwithstanding having specific in-house information of these business sectors, the organization is picking up skill preceding rolling out administrations in a portion of the bigger European markets. Sweden's utilization of its own national money rather than the Euro additionally gives a decent chance to the organization to sharpen its capacity to deal with numerous monetary forms.
2. Concentrating on particular classifications:
Instead of endeavoring to focus on each classification, Fruugo has concentrated its endeavors on a modest bunch of classes: Mother and Child, Outside, Wellbeing and Excellence and Home and Enhancement.
3. Streamlining cross-outskirt issues for online retailers:
In expansion to taking care of worldwide installments and neighborhood cash show, Fruugo oversees different cross-outskirt issues for retailers. For instance, in spite of the obligation free nature of cross-outskirt shipments inside Europe, a few items still require installment of significant worth included assessment (VAT). Fruugo makes a difference retailers ascertain these costs forthright.
4. Encouraging dialect interpretation:
Fruugo makes it simple for on the web retailers to give made an interpretation of substance to shoppers in different markets – the measure of deciphered substance is dictated by the retailer. Fruugo additionally offers machine interpretation innovation from Dialect Weaver to help buyers
5. Mastering local online retail regulations:
Acing nearby online retail controls. Fruugo is making a difference organizations explore the intricate scene of nearby controls. In Finland, for case, returns must be free: online retailers can't charge shipping or restocking expenses. In Germany furthermore, Austria, comparative circumstances exist. By differentiate, in Fruugo's other two markets beside Finland – Sweden and Netherlands – such confinements try not to apply.