What is Sears Marketplace?
Sears Marketplace is a community of sellers working with Sears to give you more than a million additional items to shop. Online Buyers can buy millions of products from Sears marketplace.
The featured product categories on Sears are Appliances, Auto, Baby Clothing, Electronics, Fitness, Home, Jewelry, Mattresses, Outdoor, Parts & Services, Shoes, Tools, Toys.
Buyer Persona found on Sears marketplace are age between 25-30(35% shoppers), 41-65(30%), Under 25(20%), Over 65(15%).
The Area served by Sears marketplace are United States, Canada, Mexico and Puerto Rico.
More than 16 million people visit the Sears marketplace every month. It means that online sellers can showcase their products to 16 million people.
Advantages to sell on Sears.com?
With 130+ million active members, Sears is one of the largest e-commerce marketplaces of U.S. and it's famous for high volume sales of large appliances. Some of the distinguishing features of Sears's marketplace are:
* 75+ million (and growing) members of Shop Your Way rewards program, who purchased GMV worth $2 billion in 2016 and have 10% higher AOV than non-members.
* Leverage all Sears group websites – sears.com, Kmart.com, and SYW.com and 1000+ stores enable members to visit in-store so members can visit in-store and through web anywhere and anytime.
* Sears.com offers Criteo's powerful Private Markets Advertisement program where Sears Marketplace sellers get to measure results and see the direct online sales impact of their advertising with product-level attribution. It also offers Paid Advertisements, which see increased sales and impressions for items.
Reasons why buyers choose Sears marketplace?
The main reason people choose Sears is they can enjoy the convenience and shop securely from Sears. Buyers will get all types of benefit when they purchase from Sears marketplace:
1. Online buyers can earn points:
Get Shop Your way points on each Commercial center buy recover on a future Sold via Burns or Sold by Kmart buy.
2. Appreciate accommodation:
Track your requests and speak with dealers through your online profile.
3. Shop safely:
Wish never shares your installment or charge card data with outside merchants. Just your contact data and transportation address are shared so the merchant can satisfy your request.
Why 3P sellers should choose Sears.com?
* Customers can shop your items on Sears.com and Sears mobile located in Sears stores
* Your items will appear alongside Sears items. * Access to millions of Sears.com members who are ready to buy 20 major merchandise categories. * Easy to use online order management interface. * Comprehensive seller analytics and reporting designed to help you sell more * Pay-for-performance. A simple and straightforward fee structure. * No long-term commitment. Cancel anytime.
Popular product categories to sell at Sears: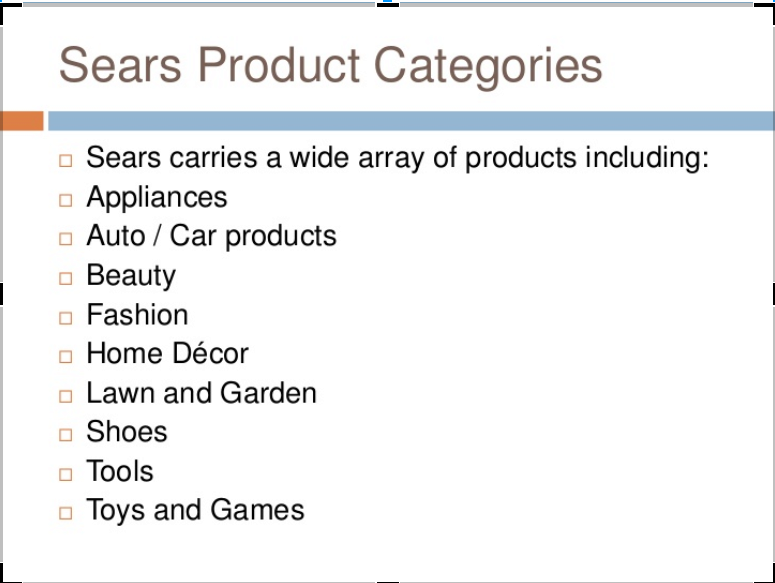 How to Start Selling On Sears?
For enlistment on Sears, potential dealers are required to setup up an account in the Merchant Portal and are looked into by our onboarding group so as to be qualified to offer on Sears Marketplace.
The Vendor Portal is the framework that enables merchants to monitor, control and starts the posting of Item Postings, administration of stock and encourage the advancement and offer of Stock to Clients through the Sears website.
Steps to Sell On Sears.com
1. You need a seller panel of Sears to integrate your store with Sears marketplace.
2. For this, you need to register yourself.
3. To register on Sears for a seller panel, Click Here
4. After getting verified, get your details from Sears marketplace.
5. Further contact CedCommerce, we are here to help you.
6. Provide us the details that you have received from Sears marketplace.
7. We would connect your store with Sears marketplaces with our Sears Integration.